"Pastis de Nice" factory and boutique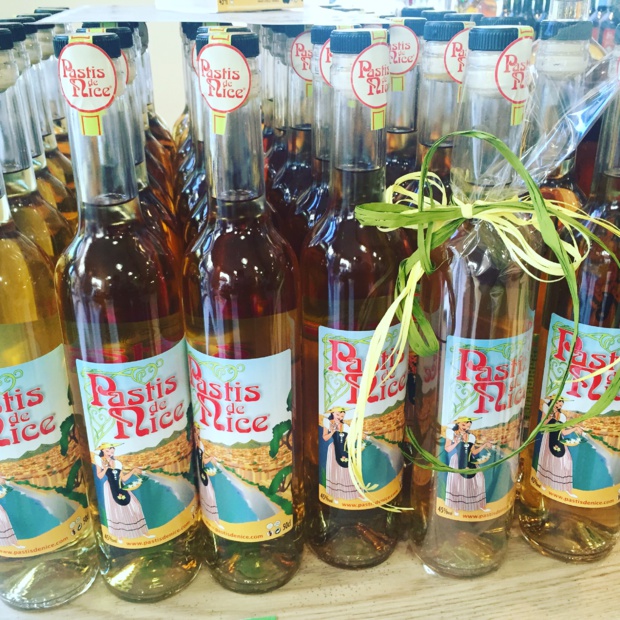 Bottles of Pastis de Nice
Since over 25 years, Father Gil Fiorini creates aperitifs and liqueurs available for sale. He created the famous "Pastis de Nice" entirely based on natural products, 8 years ago.
Since late May 2015, a boutique now sells this pastis along with many artisanal specialities like the calissons or nougat, at the heart of Nice.
In an area of 300m², it is possible to discover, at no cost, the soaking tanks, bottling and labeling process of the pastis bottles: the entire fabrication method.
"Pastis de Nice has no preservatives or coloring, meaning no caramel that often gives this heightened yellow color to industrial pastis
- explains Céline Florini, Manager of the Pastis de Nice Boutique -
there is no added sugar. It is purely composed of 24 plants and spices that soak in alcohol for several months.
This is why the Pastis de Nice a is lot more smooth tasting than industrial pastis."
Your sustainable contribution:
supporting an artisanal and ecological production by buying pastis de Nice and other products from the boutique.
The Madone d'Utelle Sanctuary
Located on the plateau of Utellle commune in the Vésubie, the sanctuary stands at 1,180m of altitude. This site provides a wide panorama on all the Southern Alps and the coast of the French Riviera from Menton to Saint-Tropez.

Built around 850, it was destroyed before being rebuilt several times. Visitors can discover a chapel, a hotel-restaurant that hikers will enjoy, and a store of artisanal products with the famous pastis de Nice.

Your sustainable contribution: the price of the visit and the purchases on location are partially allotted to the Sanctuary's maintenance.
The Madone Boutique
This boutique offers a selection of monastic products originating from all over France: rillettes, confits, biscuits, jams, olive oil, candles…

Your sustainable contribution: each purchase allows to support this monastic production.
The Jorge François Forum
This forum is several places in one: a theater, an exhibit space, a multipurpose room, a vintage store, and a sustainable restaurant, opened since one year, the 11 euro menu is available to all clients.

The conference room can also host meetings on location.

Your sustainable contribution: part of the price of the meal is reserved to deprived individuals and the benefits of the rental of the conference room also enables to financially support people in need.
Practical Info
Fabrique et boutique Pastis de Nice
6 rue Vernier, Nice
www.pastisdenice.com
Hours
: Opened from Tuesday through Saturday, from 10am to 12:30pm and 3pm to 7pm.
Madone d'Utelle Sanctuary
Utelle
www.madonedutelle.com
Boutique de la Madone
63 rue de la Buffa, Nice
www.madone.fr
Forum Jorge François
9 rue Cronstadt, Nice
www.facebook.com/forumjorgefrancois
Getting to Nice?
Plane
The Nice Côte d'Azur is the second airport of France. It serves 105 destination in 34 countries by 53 companies. In 2014, its total traffic amounted to 11.7 million passengers.
List of destinations and airline companies leaving from Nice, daily schedule in realtime:
http://www.nice.aeroport.fr
Road
The highway that leads to Nice is the A8.
Five highway exits were established to access the neighborhood of destination in Nice.
Exit n°50 : Promenade des Anglais
Exit n°51 : Saint-Augustin / aéroport
Exit n°52 : Saint-Isidore
Exit n°54 : Nice nord
Exit n°55 : Nice est
Train
SNCF Train Station
Avenue Thiers
http://www.voyages-sncf.com
The rapid and express trains (TGV, corail train) link the French Riviera to all the French regions and all the major cities of Europe. The TGV Méditerranée does the Paris to Nice trip in 5h30.