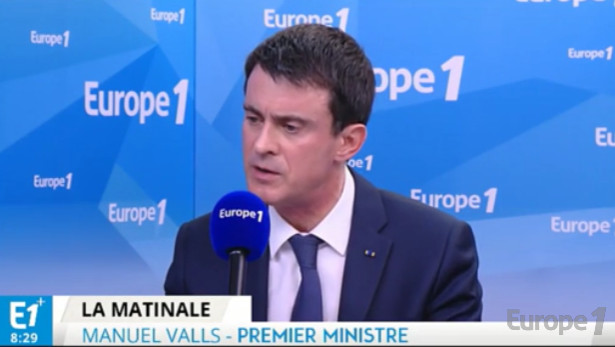 Manuel Valls was invited to Europe 1 on Wednesday March 23rd, 2016 - Screen shot
On Wednesday March 23, 2016, one after day after the Brussels terrorist attacks,
Prime Minister Manuel Valls
ensures, when asked on
Europe 1
that
"yes, the Euro 2016 and the Tour de France 2016 will still take place."
He acknowledges that the question on whether or not the two competitions should be maintained came up. But he ensures that
"major sporting, cultural, and popular events are necessary to show that we are a free nation, still standing, and that we are not afraid."
While, normally, the state of emergency should no longer be in place during the opening of the Euro 2016 on
June 10th, 2016
, the Prime Minister does not exclude the possibility of prolonging it.
"We will see,"
he declares simply.
Furthermore, he affirms that
"all the means have been deployed - public, discrete, pertaining to information - to ensure the safety"
of the events. But
"there is never zero risk when we are confronted with individuals who are determined to die."