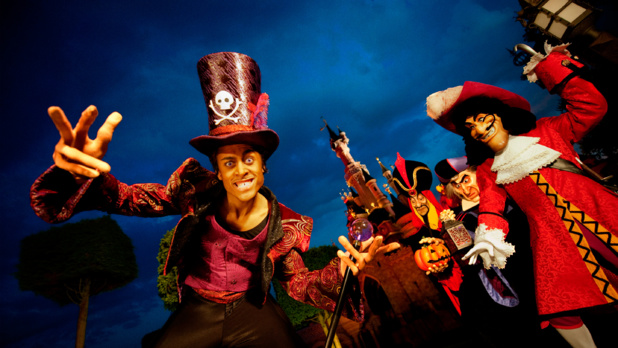 Halloween is an important economic and touristic period of the year for parks, hotels and restaurants in France. As a tradition, tourists go to amusement parks to celebrate Halloween and have fun. French amusement parks make every efforts to attract the crowds after the attacks, strikes, floods and other significant drawbacks that have struck the country lately.

This is a traditionnaly very important touristic period for Parc Astérix, as much more tourists come to celebrate Halloween and have fun in the park during the Toussaint Holidays. Every action will be taken to maintain this attendance rate this year.

This month, Disneyland Paris wants to increase the number of visitors in its parks despite a drop in tourism in France these last months. Everything has been set up so Disneyland Paris'guests will have a magical stay during the Halloween festivities.

Blessed with an important frequentation rate last year on October 31st (the biggest day of the season with more than 9 000 visitors), the Walibi Rhône-Alpes Park will organize three fireworks events on the last three days of October (3 times more than last year. Only one and unique fireworks celebration was held on October 31st in 2015) and will be open during the Holidays, October 20th to November 2, for 16 days of fun!

More than ever, France wants to promote its "joie de vivre" and its fun-loving spirit. For this season everything has been carefully thought of and displayed to ensure a festive Halloween for all.
Walt Disney's "villains" are coming out in Disneyland Paris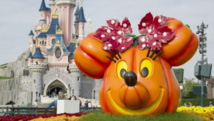 Famous Disney characters present « spécial Halloween » animations and shows.
Everyday, from October 1st to November 2, the enemies of Sleeping Beauty, the 101 Dalmatiens, Aladdin and Peter Pan run loose in Disneyland Park to present their spooky show and to create some frightfully fun encounters
Mickey and his friends are having a special Halloween parade to marvel the whole family and ghosts are playing tricks on Main Street to surprise kids and parents alike.
Sets, costumes, make-ups and characters magnify Disney Halloween magic so guests will enjoy the emblematic Disney attractions in a special fun atmosphere.
For Halloween, try the Haunted Manor, The Hollywood Tower Hotel, the Indiana Jones ride or attend the stunning Disney Dreams show.
But the best event of this season will take place on October 31st evening
. That night, Disneyland Paris will be
the
place to be. Be prepared. A special Halloween moment not to be missed.
Thrills guaranteed at Parc Asterix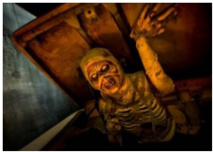 Fear is
the
theme this year at Parc Asterix, the place to be to celebrate Halloween.
Parc Astérix goes through a makeover to make you shiver: 3 haunted houses, scary monsters and shows, terrifying attractions await thrill seekers this month.
Exceptional openings at night on October 29, 30 and 31th
6pm to midnight ! Lights and sounds shows are projected on Oziris Temple 6pm-10pm, monsters appear on the Viking drakkar and fireworks close the night around 10.30pm by the lake !
This year for Halloween, Parc Asterix features a new show visitors won't forget : Metamorphosis!
A brand new monster comes to the park and he is frightening. Way too much frightening! Time to witness the scariest metamorphosis ever.
To complete their Halloween experience at Parc Asterix, visitors will attend a hair-dressing magic show : « Magna Maleficus ». 4 performances/day give you the opportunity to meet with this incredible hypnotic character… Be prepared to experience the scariest moment of your life.
Not to be missed animations at Nigloland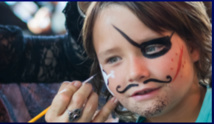 Nigloland turns into a new park - Nigloween- for Halloween October 1st-November 2 : Fantastic sets, sensational animations are on the menu to celebrate Halloween.

Ghosts, witches, vampires, haunted mansions, black cats, werewolves, pumpkins will take over the park during the month. Halloween has been an important event in the park since 2002 when Nigloween was born.

It took more than 2.500 hours of work to dress Nigloland up for Halloween. Once again the Gélis brothers, Patrice and Philippe, founders and owners of Nigloland, wanted to surprise visitors with an over the top decoration.

Some 60 tonnes of pumpkins, 1.500 seasonal flowers, 500 stacks of straw, 250 skeletons, 300 spiders, 100 lanterns, 350 characters are displayed in the park and 250 dressed-up employees contribute to create a very special Halloween atmosphere.

This year, Nigloland inaugurates 2 new attractions for the bravest visitors : Extreme Dungeon, the tallest tower (100m high) for the most spectacular rotative free falling ever and the Haunted Manor.

Children will also be happily frightened in the "Little Ghosts Tower" .

Come to Wonderland Village to experience once in a lifetime adventure!
Goose bumps at Walibi-Rhône Alpes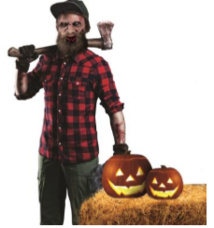 The parks divides into two atmospheres to please adults and children alike.

The toughest visitors will come and witness humans turning into horrible creatures. They will explore the terrifying zones of Explorer Adventure inhabited by werewolves and scary lumberjacks who will come after them for nerve-wrecking moments.

The haunted mansion « Hallucinations » has been completely revamped for a total immersion in a world of fear.

The Clownz'Tropfobia offers a scary colored 3D experience as you enter the brain of mad clown and loose your reference point thanks to the use of The "Chroma Depth" tecnics.

For the youngest, giant mazes, pumpkins carving and make-up stations are part of the Halloween fun in Walibi Park.

Not to be missed: A phenomenal pyrothechic show on October 29, 30 et 31.
Safety measures are strengthened
French amusement parks have reinforced safety at entrance gates and on parking lots. Visitors will be checked upon arrival. Security agents, monitoring and control devices will be diplayed to ensure a maximum security .