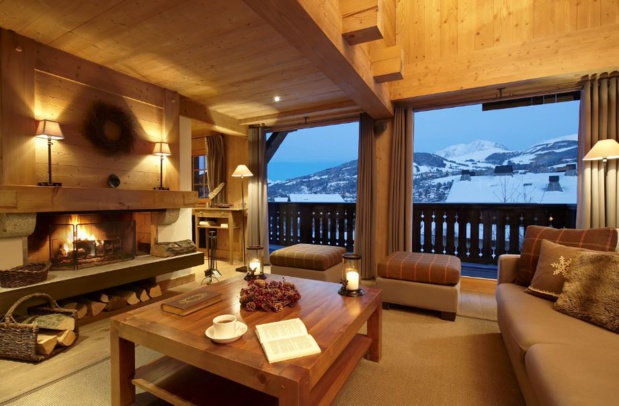 L'Alpaga in Megève is a 5 star hotel created like a private village at 1,100 meters high - DR: Les Hôtels d'en Haut
The brand-new address of the group Les Hôtels d'en Haut stands in the mountain village of Megève.
With
a breathtaking view on the Mount Blanc
and a few minute carriage ride from the heart of Megève, l'Alpaga is a 5 star hotel created like a private village at 1,100 meters in altitude.
It has
27 rooms and suites along with six cottages.
Thanks to its sand wood walls, fabrics from the famous weaver of the Alps, Arpin, fake furs, and especially the
one Michelin star restaurant, La Table de l'Alpaga
, the expertise of Swiss
wellness treatments with an outdoor spa
(nordic bath and sauna facing the Mount Blanc) and an indoor space (built in dark stone with a recreational pool), l'Alpaga has everything to offer the exceptional benefits expected from a 5 star hotel.
As for service, nothing was left unplanned, and
personalized services
are made available to clients: butler, private chef with housekeeper, space devoted to children everyday of the week…
For Franck Jaulneau, Director of the group Les hotels d'en haut, this new opus must
"arouse emotions, that is my only ambition.

And for this, I prefer to talk about empathy rather than stars when it comes to our hotels. Empathy looks like a handshake upon arrival, a smile, a stay that we meticulously tailored beforehand.
Everybody has an Achilles Hill, a different sensitivity. It our job to find the right indicators in order to aim right, and guarantee that every stay turns into an in-depth experience."
Practical Information
L'Alpaga
66 allée des Marmousets
74120 Megève
Phone
: +33 (0)4 50 91 48 70
www.leshotelsdenhaut.com
Rate
: Classic double room with breakfast starting at €400.
Getting to Megève?
Road
- Paris / Sallanches A6 + A40
- Calais / Paris / Mâcon / Annecy / Sallanches A26 + A1 + A6 + A40
- Lyon / Chambéry / Annecy / Sallanches A43 + A41 + A40
- Lyon / Chambéry / Albertville A43 + A430 Genève / Sallanches A40
Distances
: Geneva 70 km, Lyon 180 km, Milan 272 km, Paris 600 km, Lille 760 km, London 1000 km
Train
12 km from Megève TGV direct on weekends in the winter. Frequent bus service for ski station transfer departing from Sallanches.
www.voyages-sncf.com
Airplane
- Megève, international flights:
www.aerocime.com
- Geneva, international flights, 87 km from Megève:
www.gva.ch
- Saint-Exupéry, international flights, 170 km from Megève:
www.lyonaeroports.com