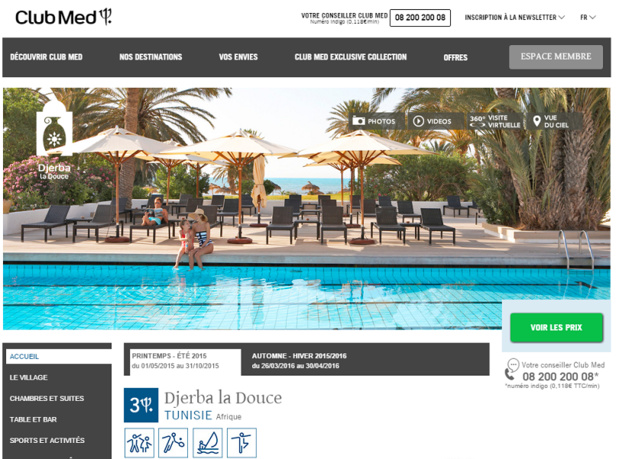 Club Med will not schedule the Djerba la Douce Village on the Winter 2015/2016 program - Screenshot
The situation gets worse every week for tourism in Tunisia.

After Marmara takes out the Dar Djerba and Palm Beach from its winter 2015 program, it is now the turn of Club Med to leave the destination for the 2015/2016 winter, as reported by Tourism-View.com.

Indeed, when looking for the destination on the group's website, while the Djerba la Douce Village does appear, we quickly notice that it won't be sold this winter.

Coming out of the summer season, the club will be "closed" starting October 31st, 2015. Club Med will not send clients the previous week either since no departure is scheduled between Monday 26 and Saturday 31st of October, 2015.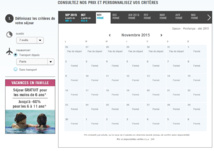 The Djerba la Douce Club is announced to be "closed" starting November 1st, 2015 on Club Med's website - Click to zoom
The Club Med Djerba la Douce is then announced as closed on December 2015 as well as January, February, March, April, and May 2016. (See right.)

Furthermore, if we try to search for stays with a departure date after October 26th, 2015 on the "Africa" zone, only the villages of Marrakech La Palmeraie (Morocco) and Agadir (Morocco) come up in the results.

We tried to contact Club Med to get details on this topic. But, for now, our sollicitations have remained unanswered.

Is RIU is leaving after 16 years in the country?
But the bad news don't stop here for Tunisia since RIU Hotels & Resorts also seems to be leaving the destination.
The Spanish Hotel chain took a heavy toll in the Sousse attack since it was at the RIU Marhaba in Port-El Kantaoui, near Sousse, that 38 people were killed on Friday June 26th, 2015.
According to the portal devoted to the Destination of Tunisia,
RIU would officially be leaving the country on September 30th, 2015.
However, the 10 establishments operated by the Spanish group in Tunisia should maintain the brand's name until late 2015. They are located in Djerba (2), Mahdia (1), Port-El Kantaoui (3) and Hammamet (4).
Contacted by TourMaG.com, the group's Europe press service does not confirm this information. It simply explains that, for now, 3 of its Tunisian hotels are closed due to a lack of reservations:
the Bellevue Park (Port-El Kantaoui), the Marillia (Hammamet) and the Palm Azur (Djerba).
As for the Green Park in Port-El Kantaoui, it is closed for renovation work.
"This is a secret to no one: tourism is struggling in Tunisia. And RIU is currently discussing with the owners of every hotel in the country to decide on the future of each of them,"
acknowledges the Director of the group's press service for Europe.
RIU Hotels & Resorts has been in Tunisia since 1999. The chain operates there through the hotel management company Tunisotels.
"Since the other players are stepping back, there is potential!"
The list of French tour-operators in Tunisia this Winter has been significantly reduced.
But a few of the diehards are staying. At the top of the list there is
Voyamar
.
"We continue to market Tunisia
, confirms Aurélien Aufort, Deputy Executive Director of Voyamar-Aérosun.
We are keeping our Club and hotel except for those that close in the winter. As for air travel, we have agreements with Tunisair that enable us to offer the destination from the airports of all the cities in province."
These commitments are maintained on land travel.
"There is a major drop, but the destination is not at a complete halt,"
summarized Aurélien Aufort.
Promovacances
is also staying in Tunisia.
"We are the first tourism player on the destination and we are maintaining our commitments,"
rejoices Folco Aloisi, Director of Karavel-Promovacances.
The group is marketing stays in Djerba, Hammametm, and in the North of Tunisia for Winter 2015-2016.
A presence in the county that, in spite of the market's difficulties, could turn out to be worthwhile, as Aurélien Aufort from Voyamar notes:
"Since the other players are stepping back, there is potential, and we will continue to position ourselves in Tunisia. Even though the destination is experiencing a downturn, we will be here once tourism picks up again."
However, the two producers remain careful and limit their commitment on air travel.
"I would be lying if I told you that we were setting up charter flights right from September,"
explains Folco Aloisi from Promovacances.
This is a general trend amongst tour-operators who are still operating in Tunisia right now.
"More of an moral than financial commitment"
With, amongst them,
Jet tours that is staying in the country while reducing its offer for the winter.
The club jumbo Salammbô, that usually closes in the Winter, ended its season earlier this year: on July 12th, 2015. It should only reopen in mid-April 2016.
As for the Eldorador Seabel Alhambra Club, it will officially close its doors on December 1st, 2015, for construction work aimed at adding a new building. It will be back in service on June 1st, 2016.
On their end, Djerba's 3 Jet tour clubs remain programmed for the winter 2015/2016. The offer has been modified however. While in 2014/2015 the TO offered the Eldorador One Resort Djerba, it is now replaced by the l'Eldorador/Sunconnect Aquaresort in 2015/2016.
Transat France
is also maintaining its production in Tunisia for the 2015/2016 winter season. But while the tour-operator had 3 Lookéa clubs in Djerba, and another one in Nabeulin during summer 2015, it will only have one Lookéa (Playa Djerba) this winter. It is offering two other addresses, the Vincci Hélios in Djerba, and the Khayam Garden in Nabeul, but as "traditional" hotels.
"We're insisting on staying in Tunisia. We have a clientele that is loyal to the destination, most of which is senior
, believes Patrice Caradec, President of Transat France.
We are not expecting the same results this year. The destination is avoided, but we keep it on our program because we want to believe in Tunisia's comeback.

We formed partnerships with Tunisian professionals. This is more of a moral than financial commitment."
As for transportation, the group is collaborating with Transavia and Tunisair but without commitments. It should program two clubs in Djerba and maybe a third one, the Cedriana, in April 2016.
In the hopes that between now and then, no other dramatic news come to ruin any hopes of recovery in Tunisia.