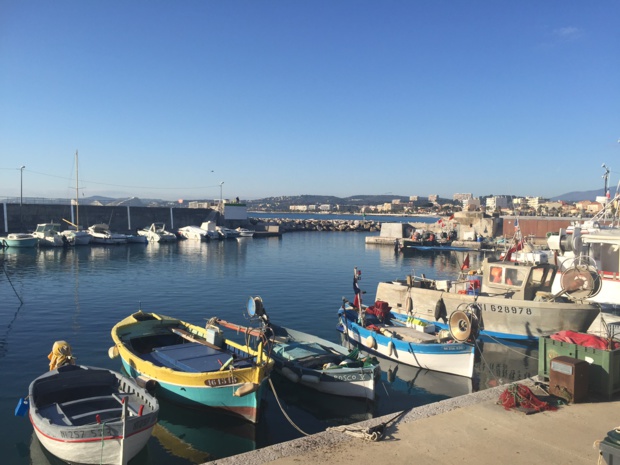 Fishermen's boats in Cros-de-Cagnes (Photo: S.H.D.)
"Before the development of Cros-de-Cagnes, we had a first village called Haut-de-Cagnes that is located on higher grounds, at the level of the Castle.

It was Cagnes' first village and was born during the Middle Ages, it is only at the end of the 18th century that the village called Cros-de-Cagnes came about. Its name comes for "Cros" meaning "hollow" that refers to the bay, and "de Cagnes" that refers to the medieval village,
explains Jessica Garcia, Guide-Speaker from the Tourism Office of Cagnes-sur-Mer.
"Fishermen crossed this border, that was part of the Var, from Italy and Menton to settle down here and practice fishing since our waters are rich with fish.

In this respect, they set up the most important fishing port of the French Riviera. Indeed, in the years 1920, this port had over 200 fishermen and provided for 2,000 people. It was a very important port despite its small size. Gradually, fishermen gave way to tourists and little by little Cros-de-Cagnes transformed into a seaside resort."
"Today, only two fishermen out of the 200 remain. They sell fresh fish every morning, except for mondays. We can still observe fishermen's boats near the shore but they are mostly of historical value and are no longer used for fishing."
"Since 2 years, the boat "les III Canailles" provides the opportunity to take boat trips. So rather than going to Cannes to take a boat toward the Lerins Islands with a crowd of tourists, we can take the boat right here and get there directly."
The beach and coastline Promenade
The city of Cagnes-sur-Mer
completely revamped its seashore a few years ago.
Thanks to a global investment of
€30 million
, la Promenade de la Plage (for which the city of Cagnes-sur-Mer was awarded the 1st prize of the Entrance of Cities Contest) transformed into a pleasant leisure and swimming area, a necessary effort for this coastline that had not been developed in a long time.
"What visitors really enjoy about Cros-de-Cagnes is that the seaside resort is very well connected through public transportation
, specifies Jessica Garcia,
which allows to be right near the sea during the summer without ever being far from Nice or Cannes. We have a bus that goes through the National 7 with service to Vence, Cannes, Antibes.
Then we have a small train station in Cros-de-Cagnes that also enables to reach Nice, Cannes, Monaco, Vintimille… And let's not forget the blue bikes that can be rented all along the seashore.
In this respect, visitors like to leave their vehicle in Cros de Cagnes if that's where they are staying and take a bicycle to visit neighboring cities. Nice is only 30 minutes away by bike and the bike lane stretches until the port of Nice. This is why Cros-de-Cagnes is often called Little Nice."
Practical Information
Cagnes-sur-Mer Tourism Office:
www.cagnes-tourisme.com
Official Website of tourism in the French Riviera:
www.cotedazur-tourisme.com
Getting to Cagnes-sur-Mer ?
By Airplane
The Nice Airport is only 5 km from Cagnes-sur-Mer
www.nice.aeroport.fr
By Train
The city of Cagnes-sur-Mer has two SNCF train stations (Cagnes-sur-Mer and Cros-de-Cagnes), both in connection with the SNCF train stations of Antibes and Nice (TGV stop):
- SNCF stop of Cagnes-sur-Mer:
to reach the city center, Haut-de-Cagnes...
- SNCF stop Cros-de-Cagnes.
to reach Cros-de-Cagnes, the beaches…
TGV stop at the Antibes and Nice train stations.
Both a few minutes away from Cagnes-sur-Mer in bus or taxi.
www.voyages-sncf.com
By Car
"La Provençale" Highway A8:
- coming from Paris, Lyon, Marseille, Aix-en-Provence: exit Villeneuve-Loubet / Cagnes-sur-Mer n°47
- coming from Italy, Monaco, Nice: exit Cagnes-sur-Mer n°48