The Swann, literary hotel in Paris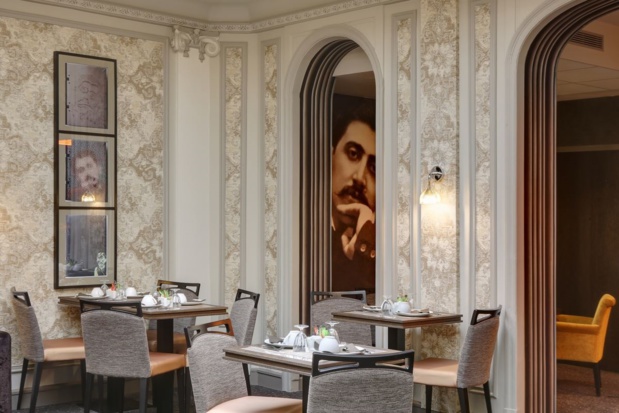 This is the first literary hotel entirely devoted to
Marcel Proust
. Located in the 8th district of Paris, the Proust neighborhood
par excellence
, this hotel from the Best Western chain offers a collection of original pieces from the famous French writer in a cozy and comfortable ambiance.
One can discover or rediscover the author of
In Search of Lost Time
through books, paintings, photos, and even a few haute-couture pieces, all contained within a superb building of 19th century architecture, that was prized during the Universal exhibit of 1898.
Just like the Gustave Flaubert hotel, there is a
multilingual library with over 500 books of the writer translated in English, Japanese, German, Italian…
Finally, every room of the hotel wears the name of a character from Proust's work or of a famous artist that the writer was fond of.
http://hotel-leswann.com
The Gustave Flaubert-Rouen Hotel, Vieux-marché
Recently opened in Normandy, this hotel of the Best Western chain is entirely dedicated to the author of Madam Bovary. It is a true initiatory journey through a
library of 500 volumes of the writer translated in different languages, including some original editions.
Ideally located in the historical neighborhood in Rouen, the hotel pays tribute to the writer in the city where he was born and lived most of his life.
The decoration of the hotel was entirely designed based on the themes that were dear to Flaubert such as travel, but it is also directly inspired by the storyline of his novels.
The rooms are customized around a work, a character, place, or intimate friend of Flaubert: Emma Bovary, Frédéric Moreau, Mégara, Guy de Maupassant…
http://www.hotelgustaveflaubert.com
Les hôtels littéraires en France : une nouvelle tendance